Tanis Vineyards Winery
Latest News, Releases & Happenings...
New Wine at TANIS! Come taste our 2013 Zinfandel!

February 17th & 18th come enjoy sneak peek tastings of our TANIS Old Vine Zinfandel! Enjoy our newly released Malvasia Bianca and try our methode champenoise Blanc de Blanc and Rose sparkling wines enjoyed with sweet and savory bites! Other sneak peek tastings throughout the day, and of course lots of big, bold reds on the tasting bar!
Visit our neighbors at Convergence this same weekend for wine paired with Chicken and Sausage Gumbo! For dessert they are serving up Bacon and Peanut Truffles with their award winning vintage Port!
Come out for wine tasting, it's a great weekend for a drive out our way!
Andrew & Jill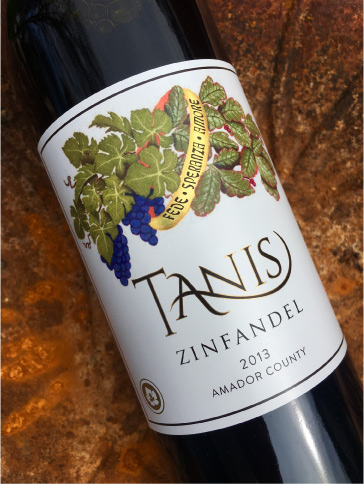 Tis the Season for Toasting!

We hope you are enjoying happy gatherings and festivities and planning good things for the new year! As we give thanks for this season of celebration we are excited to let you know you can now raise a glass with a truly delightful and very bubbly Tanis Blanc de Blancs or Rosé sparkling wine made in the méthode champenoise traditional style of secondary fermentation in the bottle! The Blanc de Blancs, made from Verdelho and Chardonnay, is golden cream in color, bright and fruity with floral aromas, and the Rosé, a lovely pale pink, is dry and crisp with vibrant berry fruit aromas and flavors! Both wines have incredible natural effervescence! 

These wines are now on the bar and open for Tasting and we can hardly wait to share them with you! If you're done with holiday shopping or you need some wine for the table and under the tree, come on by for some sipping! 

We will be open our normal hours Friday and Saturday December 22nd and 23rd, and open 10am to 3pm December 24th. 

We hope you are enjoying celebrating in many special and meaningful ways, and that you will be toasting to love this year with a glass of bubbles in your hand and joy in your heart!

Dec 9th & 10th... West End Wineries Holiday Open House!

Come visit the West End Wineries December 9th & 10th 2017…
Tanis Vineyards
Convergence Vineyards
Drytown Cellars
Nua Dair Vineyards
Sera Fina Cellars
Rancho Victoria
for wine, tastes and treats, festivities and fun!
Here at TANIS enjoy sweet and delicious Late Harvest Zinfandel Brownies, wine and chocolate pairings, and our newly released Pinotage and Syrah!
Convergence is offering Bison and Yukon Potato country stew (YUM!), plus wine specials and tastings of their newly released Reserve Barbera!
West End Wineries' newest addition, Rancho Victoria, will delight you with smoked duck breast with cherry and thyme mostarda and cheesecake tartlets!
Sera Fina is offering fried chicken, potato salad and cookies paired with an array of wine and hard apple cider including blueberry habanero cider!
Drytown and Nua Dair will also have something special for you to enjoy!
Tanis 2012 Syrah and 2014 Pinotage... Just Released!

We hope you're enjoying the cool weather and falling leaves and that you're looking forward to some great wine!
Starting Friday, November 3rd we have two new releases for you to enjoy! Tanis 2012 Syrah is ultra rich with hints of blueberry and plum, and the 2014 Pinotage will knock your socks off with its complex aromas of berry sauce and pipe tobacco, and rich fruity palate. Come by for tasting!
We hope you're finding lovely ways to celebrate the change of seasons.
Joyful Autumn to you!
Andrew & Jill
TNT Dynamite Red Release & new Mission varietal now on the tasting bar!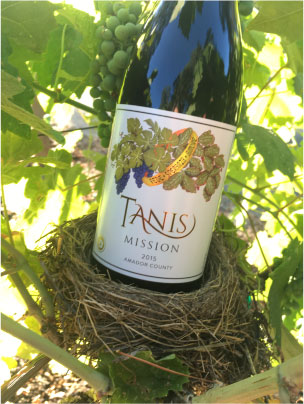 We have two amazing and truly unique wines hitting the tasting bar in July! TNT Dynamite Red and a rare Mission wine! This year's TNT is a fantastic blend of Petite Sirah, Cabernet Franc and Mourvedre, and the Mission is so delightful we can't wait for you to taste it!
Mission grapes were planted in mission courtyards of California as mission padres considered wine to be an essential part of life. Mission wine was used as a drink with meals, as a medicine, and also in the sacrament of communion. Until about 1850 Mission grapes pretty much represented the entirety of viticulture in California wines. Today, Mission grapes represent less than 1000 acres of total plantings in the entire state! Reminiscent of a full bodied Pinot Noir, we hope you thoroughly enjoy this very rare California wine.
New Creations!
Jill Tanis has created more mixed-media art pieces for you to enjoy while sipping Andrew's delicious wines! Spiritually and emotionally inspired, she hopes they are a blessing to your soul.

Come out and see us soon!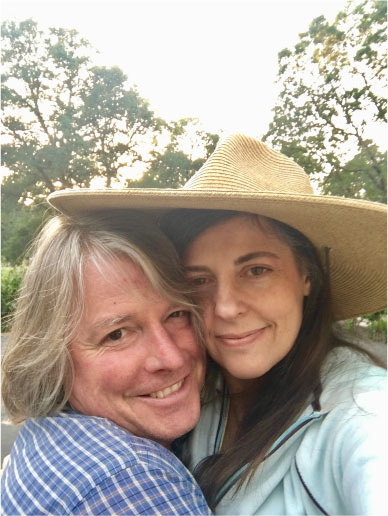 Fantastic New Wines on the Tasting Bar at TANIS!
Spring has sprung and it is absolutely beautiful around here after all the lovely rain! Come by for a taste of our new white wines, Malasia Bianca, Chardonnay, Sauviugnon Blanc as well as the new Petite Sirah, Primitivo, and an exquisitly sweet Late Harvest Barbera. Lots to enjoy!
See you soon!
Andrew & Jill
Happy New Year!
Everything is green and lush around here after all the wonderful rain! We hope you are enjoying the sunshine that is peeking through too! Best wishes for a healthy, happy 2017! Stop on by and see us soon... there's lots of great wine on the bar!
Open New Year's Even & New Year's Day!
Peace & Joy to All in the New Year!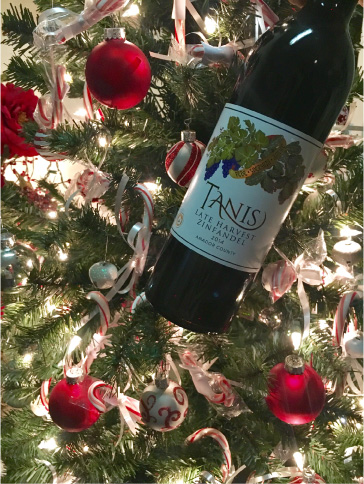 Late Harvest Zin Release and West End Wineries Holiday Open House December 10th & 11th!
Join us at Tanis for delicious wine, holiday chocolates, newly released Late Harvest Zinfandel, and a Candy Cane Tree Game for prizes and discounts on December 10th and 11th from 12-4pm. All the West End Wineries are participating in the fun! Details below! Come out and play!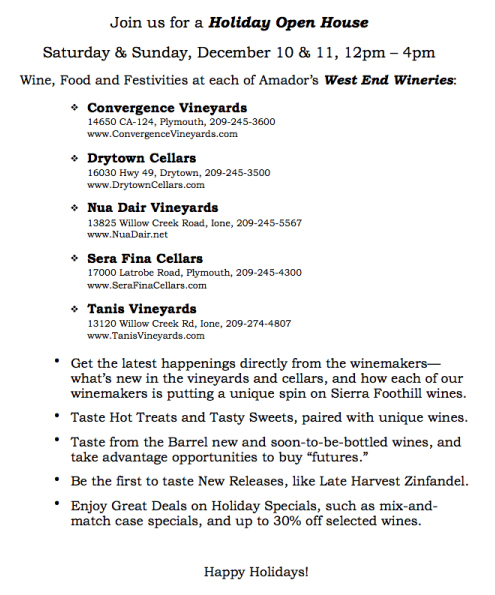 Cabernet Franc, Pinotage, and Merlot!
We hope you're enjoying the beautiful fall weather! Harvest has been great this year with lots of fruit and some new varietals to experiment with. Come out for a drive our way if you're able and celebrate the beauty of the change of seasons with us.
We're so excited to release our 2012 Cabernet Franc, 2013 Pinotage, and 2012 Merlot… all new to the tasting bar starting November 4th, 2016! These wines are delicious!
If you know you're interested in the Pinotage let us know as soon as possible, this one is very small production as usual. Both the Pinotage and the Merlot pair well with many holiday meals including turkey and cranberry sauce!

Joyful autumn to you! Come and see us soon!
Jill & Andrew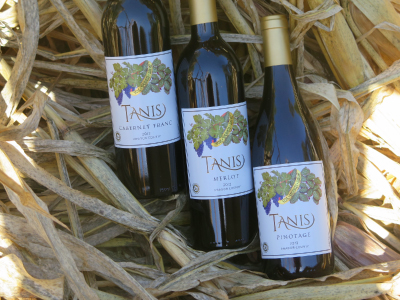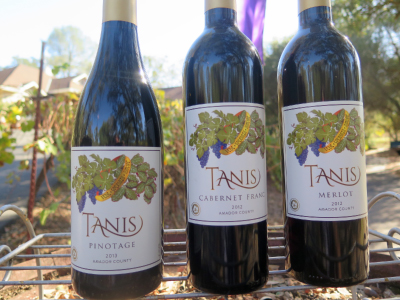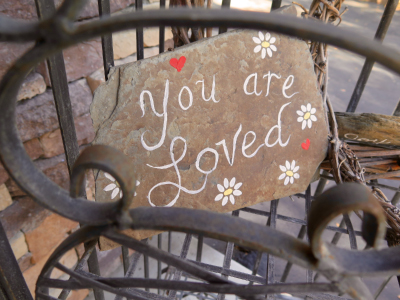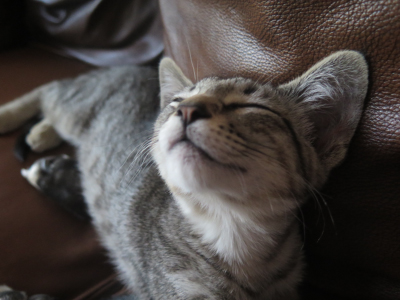 Primitivo, Nebbiolo, and a unique Amador County Pinot Noir!
New wines on the tasting bar at TANIS in July! 2011 Primitivo, 2012 Nebbiolo and 2012 Pinot Noir! The Pinot Noir is very limited production from a grower who has just a few rows of Pinot Noir here in Amador County. Pinot Noir is a rare varietal for our area, and most years in the past conditions weren't quite right for harvesting. 2012 offered good weather for the Pinot, and we felt we could make an exceptional wine with it. We're super happy with how it turned out! Even if you're not a Pinot lover, we think you'll really enjoy this unique wine. It's a big, dark Pinot Noir with a strong pop of cherry to it! Come on by for tasting. Hope to see you soon!
Andrew & Jill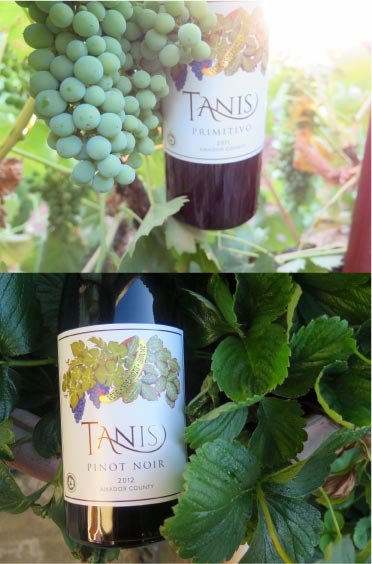 New TANIS Sauvignon Blanc on the tasting bar!
We have a really lovely new 2015 Sauvignon Blanc on the bar!
It's light, crisp, refreshing and delicious… perfect for summer sipping on a warm day.
Hope all is well in your world.
Come out and see us soon!
Andrew & Jill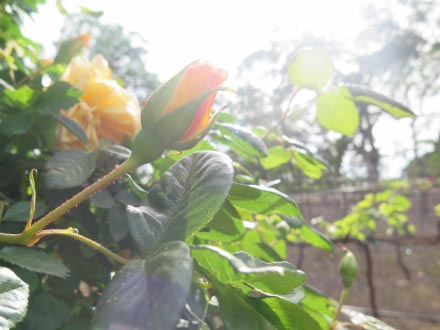 TANIS Zinfandel & Syrah Release!
Come out and try the newly released 2011 Zinfandel and 2011 Syrah! The Syrah is smooth and silky with layers of fruit across the tongue and the Zinfandel is really beautiful this year with a lovely lingering back end. So delicious!
The Syrah is limited production. If you'd like to taste it be sure to stop by soon!
Spring has sprung and it is a beautiful time for a drive out our way!
Andrew & Jill
Adventure Down the Road Less Traveled...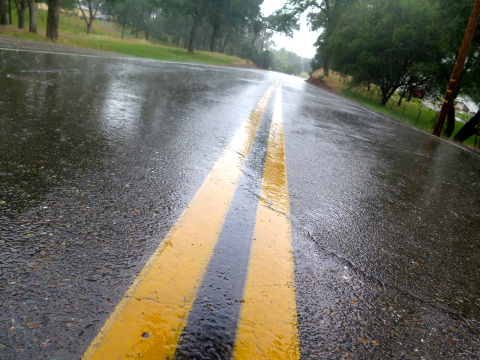 January is a great time to come by for tasting and visiting. Lots of great wine on the bar. Join us on a wet weather cloudburst day, and we'll celebrate the rain together!
Stop in on Monday, January 18th, Martin Luther King Jr. Day for special gratitude gifts.
"I have decided to stick with love. Hate is too great a burden to bear." ~ Martin Luther King Jr.
Andrew & Jill
Gratitude
Wishing you much to be grateful for this weekend and always. If you're looking for something fun to do with family, we're open the day after Thanksgiving and all weekend, and would love to share our wines with you! Come try the 2012 Pinotage before its gone! We've got some delicious chocolates out for you to try as well... Chocolate Spiced Apples, TNT Dynamite Explosion and more. There's also some great new art on the walls for you to discover! Peace and love to you and your families. Can't wait to see you. Stop in when you can!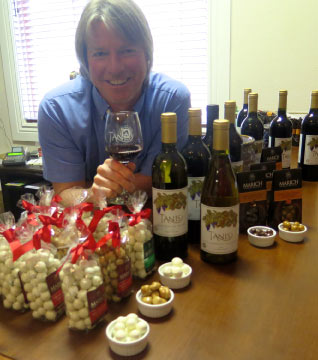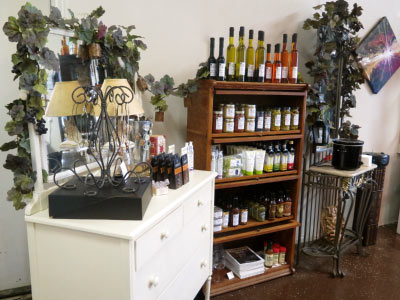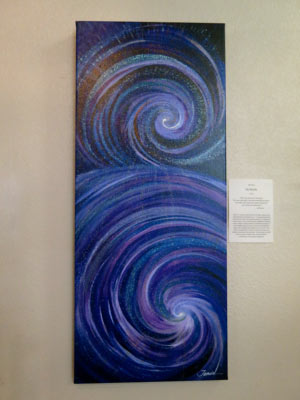 Barbera, TNT Dynamite Red & Pinotage! November 2015 Wine Release!
Come out and see why cool cats LOVE Tanis wine!!!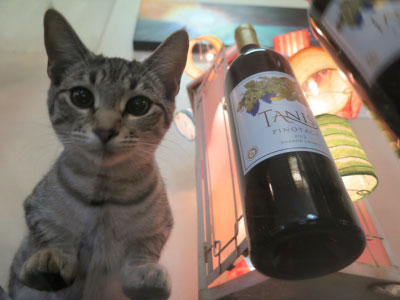 We hope you're loving the rain and the change of seasons as much as we are! It's a beautiful time for a drive out our way with our newly released 2011 Barbera, 2011 TNT Dynamite Red, and 2012 Pinotage hitting the bar the beginning of this month! All three of these delicious wines were limited production, with the Pinotage being the smallest. If you love it and know you want some, call quickly. There are just 6 cases available after wine club.
We've got delicious chocolates for you to try as well! Chocolate Spiced Apple, TNT Dynamite Explosion, Blueberry Bliss, and of course our Pumpkin Spice Caramels too!
Come out and play... you may just catch a rainbow on your way...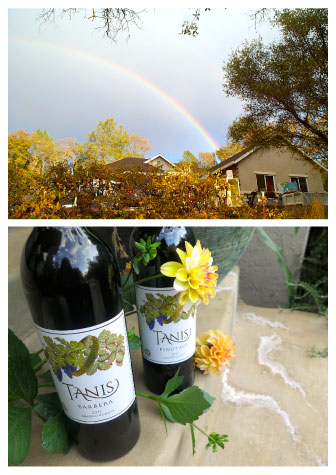 Joyful autumn to you!
Andrew & Jill
Art Show & Wine Tasting ~ Saturday & Sunday September 26th-27th!
Come see the artwork of Jill Tanis now on display at Tanis Vineyards Winery Saturday & Sunday, September 26th-27th. Meet and greet with the artist from 12pm-5:30pm both days. Saturday, the 26th, enjoy live original acoustic guitar music from 2pm-4pm. Wine tasting and an array of gourmet samples both days.
For Jill, art is an act of self expression, self discovery, and healing. "I don't just like art, I need art. It's how I process and make sense of the world and my reaction to it. It helps me unwind my felt experience of spiritual and emotional questions and weave together complex thoughts and feelings into something I can more clearly comprehend... I hope that in viewing my work your heart resonates with the shared intuitive whispers of my soul."

Each of Jill's paintings is displayed with a personal quote expressing some aspect of what the art means to her. "These words I'm sharing aren't everything the piece is meant to express. I've chosen a quote that is particularly meaningful to me at this time, and hope my art and words inspire thoughts and healing in those who view it, that spiritually it will speak personally meaningful things to the viewer that I haven't even thought to express." One piece on display is titled "Tell the World I'm Coming Home." The accompanying quote reads "When trauma of this world has caused our spirit to leave the body behind, there is a journey of courage we must take to come home to ourselves again. Don't give up during the difficult steps of that journey, there is a truer understanding and deeper soul satisfaction on the other side. You are coming home. You are coming home with wisdom and love and compassion that only such travelers possess."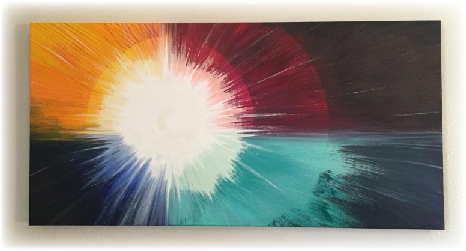 Visit us for a first look at Jill's art Saturday and Sunday, September 26th-27th. Come for the art, the wine, the music, the love and connection! Can't wait to see you!
Andrew & Jill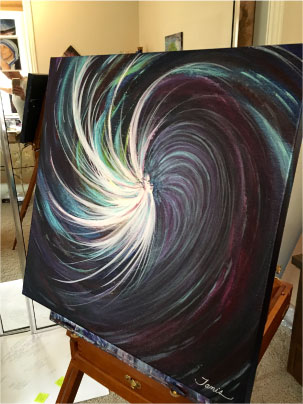 Dark Reds, Crisp Cool Whites, and Spicy Gourmet Items to Sample!
Along with our usual big bold reds, we currently have a crisp cool Sauvignon Blanc and a lightly sweet Late Harvest Viognier that pair well with spicy food! Come sample the new gourmet items we have in the tasting room including Dragon's Breath Habanero Marinated Garlic, Hot-Stuffed Habanero Garlic Olives, Champagne Jalepeno Mustard, 2 Hot 2 Handle Artichoke Salsa, Crying Tongue Hot Sauce, and more! Be sure to taste our new-to-the-bar 2010 Tempranillo with the Smokin' Fuse BBQ sauce, a fantastic pairing!
Andrew & Jill
5 New Wines Released... 2010 Tempranillo, 2010 Cabernet Franc, 2010 Sangiovese, 2014 Sauvignon Blanc and 2014 Late Harvest Viognier!
You definitely want to set a day to come out for wine tasting! We have 5 new TANIS wines hitting the tasting bar starting Friday, July 10th… a crisp and tasty Sauvignon Blanc, light and luscious Sangiovese, rich and real Cabernet Franc, truly tempting 2010 Tempranillo and a new adventure lightly sweet dance on the tongue 2014 Late Harvest Viognier! Something for everyone! We are almost out of Syrah and Betwixt from our April release, but still have a case or two of each. Come out for a great TANIS wine line up. Can't wait to share it all with you!
Andrew & Jill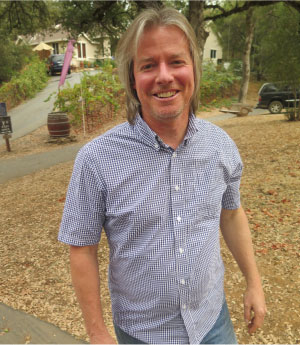 New Wines Released... TANIS 2010 Primitivo, 2010 Syrah, 2014 'Betwixt the Vines'
We've got an incredible Primitivo on the bar for you, as well as a deliciously smooth Syrah. Both of these reds are amazing. The Primitivo is 'Jam in a Glass' with just the right amount of caramel toasty oak on it. The Syrah is a wow of wild cherry and plum pudding, a really outstanding Syrah.
Check out these two powerhouse reds as well as our new 'Betwixt the Vines,' a 50/50 Mourvedre/Grenache blend. Bright, crisp, intense, full of fruit. Come be suprised by the uncommon style and beautiful color of this special wine.
Can't wait to share with you.
Andrew & Jill
Spring Propagation Celebration March & April 2015!
Join us at Tanis any weekend in March or April for our Propagation Celebration! What are we propagating? Spring vine shoots from our land to yours along with joy, gratitude and loving kindness... Stop by for wine tasting in March or April and bring a little piece of Tanis Vineyards home with you to plant. The vine shoots are a mystery bunch. What might you find when they come to fruition? Barbera, Cabernet Franc, Primitivo, Zinfandel, Tempranillo, Petite Sirah, or maybe a crisp tasty white grape varietal… there could even be an eating grape in the mix as we have a few of those planted on the property as well!
We're excited to share our wine with you and to share some vines with you through this celebration of spring growth.
We have some lovely crisp, fruity, refreshing white wines on the bar right now that will be very enjoyable through spring and summer, as well as our usual big reds and several new releases hitting the bar as we sell out of various varietals. Be on the lookout for our new blush blend, 'Betwixt the Vines'!
Stop in for some love, some wine and a few vines to take home for planting if that lights up your heart!
See you soon!
Andrew & Jill
Special Verdelho Offer Valentine's Weekend, February 13th-15th 2015!
Come on up this weekend for a romantic time in the Sierra Foothills and great wine at TANIS. The much needed rain has kissed the earth, the grass is green, and signs of spring are starting to show! This Valentine's weekend come enjoy a warm smile, irresistible dark chocolate, and some wines from the past... as long as quantities last we will have our 2008 Cabernet Franc, 2009 Syrah, and 2010 Mourvedre open for tasting. We will also be showing off our new 2014 Verdelho, a beautiful, crisp white wine with juicy pear and apple flavors!
Purchase 6+ bottles of our new Verdelho this weekend and receive an additional 10% off... that's 15% off for all and 25% off for wine club members!
With Love May You Fulfill Your Heart's Desires and Each Day Find New Reasons to Rejoice!

Valentine's Day and Always...
With our friends and true loves, may we have the courage to know and be known, to love deeply and be deeply loved.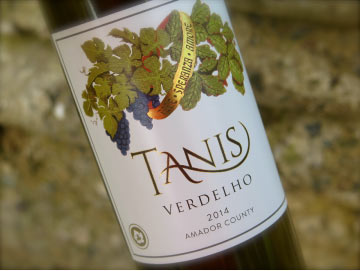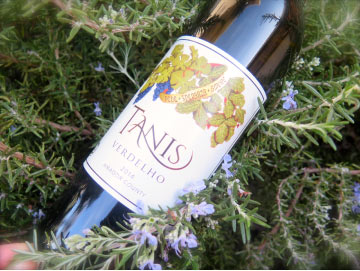 Join us for Joyous Holiday Wine Tasting...
We hope your holidays are feeling Merry & Bright! Come on by for some after holiday relaxation at TANIS and taste our very limited production 2010 Petite Sirah. There are just a few cases left! Enjoy sweet and spicy tastes with our bold red wines and crisp dry whites. We are excited to share our Spicy Dark Port Chocolates, Candy Cane Caramels, and Blueberry Bliss with you!
Andrew & Jill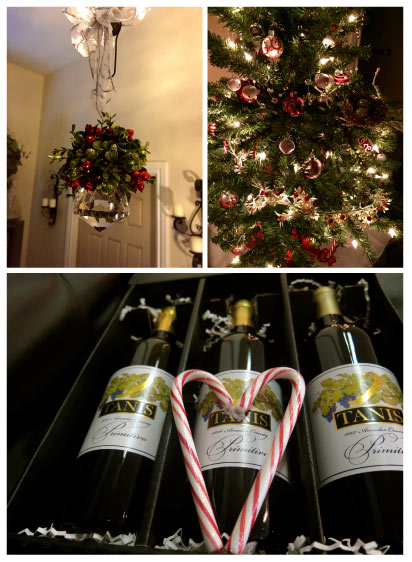 Enjoy the Feel of Fall... and Delicious New Tanis Wines!

We've had a little rain around here and the leaves are all turning color. Beautiful! Take a drive our way and enjoy the crisp, fresh, fall air.
Can't wait to share our 2011 Pinotage and 2010 Barbera with you! Awesome for holiday meals and parties!
As we head toward the end of 2014, may we let go of what needs letting go of, hold tight to what matters, and live in the moment with the ones we love!
Hope to see you soon,
Andrew & Jill

Happy Harvest 2014!
Crush is under way and the feeling of fall is in the air. Any given weekend this month or next you are likely to find us crushing, pressing, or otherwise processing grapes while you're here!
TNT Dynamite Red, Pinotage, and Barbera are now on the bar! Yum, yum, and super-YUM! Small production as usual, these varietals will be gone before you know it. If you're a Pinotage fan you will definitely want to visit soon, there is a limited amount available after putting wine aside for the upcoming November wine club shipment.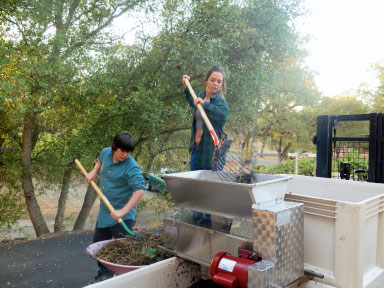 With the addition of our new social media director (aka Darling Daughter Danielle!) we're excited to let you know you can now find us on social media... we'd be thrilled to have you like us on facebook!

https://www.facebook.com/tanisvineyardswinery
Director of Social Media...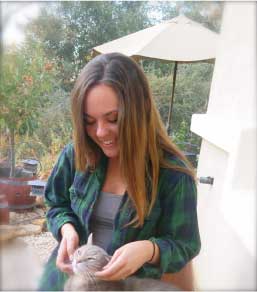 What else is new at TANIS? A refreshed label design! Can't wait to share it with you in person!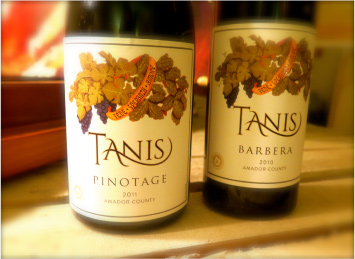 So put on your happy shoes and join us soon to taste our new releases, see the new label, and experience a pairing of dark chocolate and dried cherry with our 2009 Primitivo! (24 cases left)
Zinfandel & Muscat Canelli
The warmth of summer is radiant and bright and new wines are on the tasting bar! Come try our delicious Muscat Canelli. Less sweet than a typical Muscat, you will absolutely love the beautiful floral aroma of this dry white wine and the balance of crisp fruitiness it offers. Also new to the bar is our 2010 Zinfandel...silky smooth strawberry and cherry with a smokey caramel back end!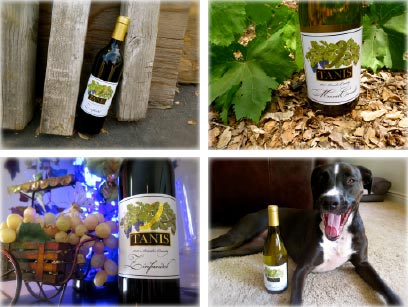 Andrew & Jill
Latest Release Sangiovese and Mourvèdre
Our Sangiovese and Mourvèdre are now available in the tasting room. These are the 2 wines we offered as futures during a recent barrel tasting. After wineclub and futures sales there are only a few cases of each left. These wines may not be on the bar, but if you'd like a bottle be sure to ask if we have any left when you are here!
We'll see you soon!
Andrew & Jill
TANIS 2009 Syrah & Petite Sirah
The 2009 TANIS Syrah & Petite Sirah are now on the tasting bar! These two dark and delicious wines are the last bottling of our 2009 vintage and were well worth the wait.
The Syrah is deep and rich, with smokey tobacco and spice aromas and peppery notes. The Petite is full-bodied and smooth, with plumptuously fruity cherry and plum flavors... a luscious mouthful!
Come by and taste with us!
Andrew & Jill
Wine, Chocolate and Loving the Rain...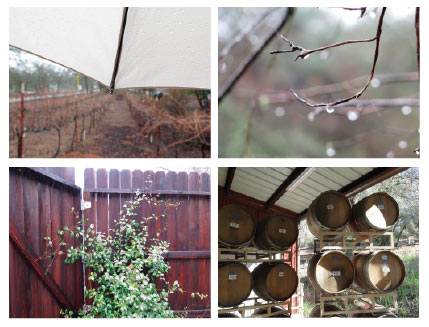 We've loved the rain these past few days and are thankful for the gift and beauty that it is! Rain and shine, this coming weekend, Valentine's Day February 14th thru Monday the 17th, is a great time for a drive out to TANIS. We have our chocolates out for sampling and will be barrel tasting our gorgeous 2010 Mourvèdre and sassy 2010 Sangiovese! You can buy futures of either of these pre-release wines.
Come on out for a day of play!
Andrew & Jill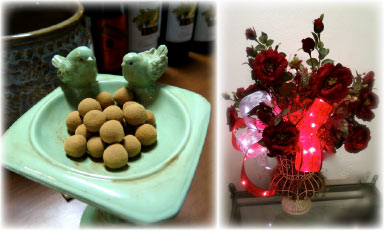 Entering the New Year with Gratitude
I don't think there has been a year of our lives together yet that we have not experienced a little bit of everything... joy, sorrow, pleasures, pain, the expected and the unknown...life is always an adventure! As the new year begins it's a time of reflection and gratitude. Reflection on the highs and the lows, the ways we've grown as well as ways we have failed to grow, and gratitude for it all. Truly this is something we are learning to do, to be grateful for everything, knowing that the beautiful moments of life are to be treasured and that the storms of life often, if not always, bring some kind of good to our lives over time as well. Here's to an adventurous 2014 full of life well lived! Wishing you and yours all the best and looking forward to good things for us all in the new year!
Come by and see us soon and enjoy the spectacular wines currently on the bar.
Dec 20th - 22nd
Thank you to everyone who joined in last weekend! During the month of December we are collecting donations for the Interfaith Food Bank of Amador County. Visit us with any size bag of non perishable food December 20-22nd and we'd like to give you a pair of TANIS wine glasses. Thanks for participating with us in making things a little brighter for others this season! Wishing you much love, peace, and joy through the holidays and always!
Click Here for a Fun Christmas Poem Send to us and Written by a Tanis Wine Fan!
Dec 14th & 15th - Holiday Open House - West End Wineries
Join in the fun and become eligible to win a Holiday Drawing for a huge basket of wines and other goodies. Just come and visit all 5 of Amador's West End Wineries December 14th or 15th to participate. Enjoy winetasting and get your card stamped. You do not need to be present to win, simply turn in your completed card at the last winery you visit. The winner will be notified when the card has been drawn! Enjoy gourmet specialty chocolates at Tanis Vineyards and other delicious food samples at each West End Winery. Come on by Dec 14th or 15th and pick up a card and map and have some fun!
Click Here For an Easy Print Version of the West End Wineries Open House Map
December 6th-8th
It's a great time to stock up on wine and get gifts for the holidays. There is a fantastic line-up on the bar. From our crisp, clean Chenin Blanc and dry Sauvignon Blanc to our big, bold, hearty reds: Sangiovese, TNT, Barbera, Primitivo, Cabernet Franc, and Pinotage... you will love the tasting!
We have many gourmet oils, salsa, bbq sauce, chocolates, syrup, and other fun food items that make excellent gifts alone or paired with our wines. Leave the crowds behind and come enjoy a leisurely day in Amador Wine Country!
During the month of December we are collecting donations for the Interfaith Food Bank of Amador County. Visit us with a bag of non perishable food December 6th-8th and we'll give you a pair of TANIS wine glasses. Thanks for participating with us in making things a little brighter for others this holiday season!
Andrew & Jill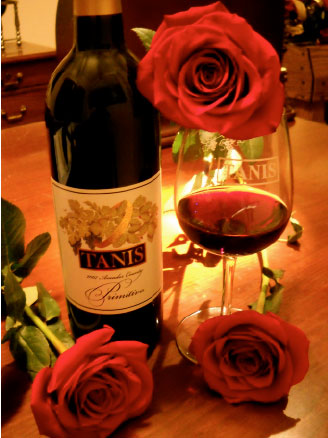 Pinotage Release! Nov 15-17
We are absolutely loving the feeling of fall in the air. Grapes are all harvested and press is nearing completion. It's a very good feeling.
Three delicious new wines have just hit the tasting bar. Pinotage, Primitivo and Cabernet Franc! Come on by and enjoy them with us!
Andrew & Jill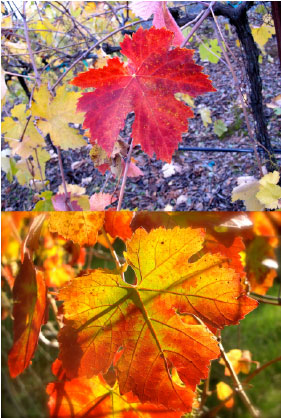 'Sneak Peek' tasting of TANIS 2010 Pinotage, Sept 27-29
There is so much good energy around here lately. Grapes are coming in and crush is under way! We thrive on the sights, sounds, smells, and feel of this time of year.
On top of harvest, we are also bottling our 2010 Pinotage! If you want a 'Sneak Peek' taste of this truly beautiful wine, do come by this weekend. It's delicious and we can't wait to share it with you.
We have just under 40 cases of the newly released 2009 Barbera left. Wine club members are guaranteed to get at least one bottle of Barbera in their November wine club shipment, as well as at least one bottle of the Pinotage. November wine club will definitely go out before Thanksgiving so you can enjoy this Pinotage at your dinner celebration table. It's a spectacular wine to enjoy with your Thanksgiving meal, from the turkey all the way through to the pumpkin pie!
Come for the special pre-tasting of the Pinotage this weekend, Sept 27-29.
Andrew & Jill
TANIS 2009 BARBERA Released!
Without question you are going to LOVE the 2009 TANIS Barbera we are releasing this weekend. It is dark and beautiful and perfectly balanced. If not this weekend, make a point of coming to see us soon. We can't wait to share it with you.
Andrew & Jill
TANIS TNT Black Cap & Silver Cap Released!
This year we had big fun blending the TNT Dynamite Red!  The varietals were delicious and distinct. Instead of creating one blend, we came up with two! The 2 TNTs are both tasty, with very different appeal. Come see which you prefer! We differentiated the 2 TNTs by cap color, so there is a TNT Black Cap and TNT Silver Cap for you to enjoy. These are two totally unique blends... both amazing!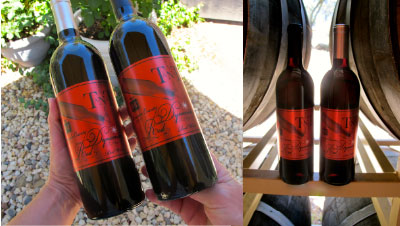 NEW Releases... TANIS 2009 Sangiovese, 2012 Blushing Beauty Rosé and more!
It's a great time to visit TANIS for a tasting of the NEW reds on the bar. Also don't miss the Blushing Beauty Rosé. This Mourvédre Grenache blush blend is dry, fruity, and delicious. Come be suprised by the uncommon style of this rosé wine.

We look forward to seeing you soon!

Andrew & Jill
TANIS Sangiovese & Rosé, Plus Futures Tasting of the 2009 TNT Black Cap!
TANIS Vineyards will have a Wine & Chocolate Celebration...
Friday-Sunday, May 10th-12th, we are releasing our bold and beautiful 2009 TANIS Sangiovese and our crisp, dry, refreshing 2012 Blushing Beauty Rosé! Don't miss this Rosé before it's gone. This is a VERY limited production wine.

Taste these fantastic new wines and other great varietals and sample our new Sea Salt Dark Chocolates, Triple Chocolate Toffees, Spicy TNT Dynamite Explosion Jamaican Jerk Chocolates, and more!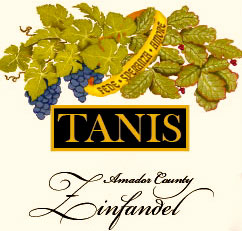 TANIS Zinfandel Release!
The beginning of March 2013 marked the release of a huge Tanis Zinfandel, probably the boldest Zin Andrew has produced to date. Come try a sip with us some weekend soon, it is really beautiful this time of year and you will enjoy the wildflowers too. After March Wine Club release we have 22 cases of Mourvédre and 4 cases of Tempranillo left, and there are other fantastic wines on the bar for you to enjoy as well!


New Wine at TANIS!
This weekend we will be releasing 2 new reds! TANIS 2009 Tempranillo and 2009 Mourvèdre are waiting to make your acquaintance.
Also new to the tasting bar this weekend is a crisp, clean, refreshing TANIS 2012 Chenin Blanc. Tasting notes for the new reds are below. Come help us write the description for our beautiful Chenin Blanc!
2009 Mourvédre
Deep crimson in color, this Mourvédre is very full bodied, a powerful yet balanced dry red wine with aromas of butterscotch and creamy hazelnut.  It has flavors of raspberry and spice with a touch of black pepper. Fine tannins and a rich, lasting finish.
2009 Tempranillo
Supple and satin in texture.  Dark garnet in color. This Tempraillo is dry and full bodied with aromas and flavors of strawberry jam and glazed berry cobbler. Excellent wine to pair with red meat dishes.
It's a beautiful time to visit Amador Wine Country. Although the vernal equinox is still over a month away, you can really feel spring tapping at the door. The daffodils always seem to be the first to announce themselves. Although there is something to love about all the seasons, I especially enjoy spring and its way of ushering us in to our own seasons of renewal and growth.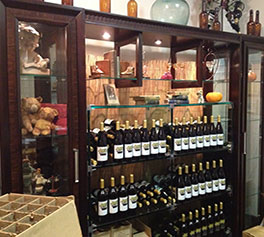 Come See What's New in the TANIS Tasting Room
We're excited to let you know that rearranging has left us with a little more space in our cozy tasting room. Come see what we've done and enjoy the new look and feel with us as we taste the big bold red wines Andrew currently has on the bar!
Besides the delicious wine to enjoy, there are now some other very special things behind the tasting bar... antique teddy bears, bottles, books and decor. Most of these items were once treasured by Jill's parents and many have interesting stories to tell.

2012 has been an incredible year and we have so much to be thankful for. Come share a moment with us as we celebrate the coming new year and the hopes and promise it has to offer as we move forward into 2013.
New wines are being bottled and there is much to look forward to! Zinfandel, Tempranillo, Mourvedre, Cab Franc and Primitivo are among the first of the 09's on our bottling schedule and will be coming right around the corner.
Looking forward to seeing you soon!
Andrew & Jill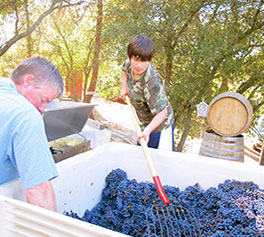 2012 Abundant Harvest
The feeling and colors of fall are all around as we finish up the 2012 crush. This year has been an absolutely beautiful harvest. The grapes (especially the Primitivo) coming out of the field are both high quality and abundant. Keep an eye out for this one. The 2012 Primitivo is definitely something to look forward to!
TANIS Wine Club release will go out the beginning of November. The coming shipment includes 2 bottles of TANIS Pinotage and 2 bottles of TANIS Late Harvest Zinfandel. After wine club goes out there are only about 10 cases of Pinotage left.
Come by soon to stock your cellars and wine racks for the coming holiday meals and parties! Enjoy wine and chocolates! Our Spicy Pumpkin Cheesecake Caramels, Triple Chocolate Toffee, and spicy TNT Dynamite Explosion are back on the bar for tasting as well!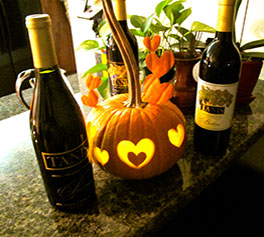 TANIS 2008 Pinotage & Late Harvest Zinfandel
The Pinotage and Late Harvest Zinfandel are here!
The Pinotage is big, bold, dark, beautiful, and jammy. Flavors of dark cassis, oaky vanilla, cranberry, and a tasty touch of tobacco.
The Late Harvest Zinfandel is delicious paired with our spicy jamaican jerk seasoned port chocolates. Come enjoy!
Can't wait to share these wines with you!